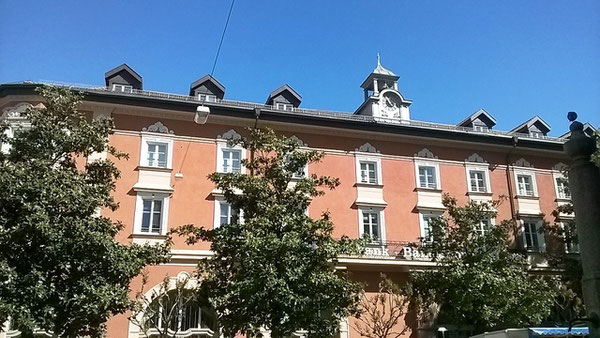 The women's Museum in a historical building
In 1309, the Archduchess Euphemia founded the Convent of the Poor Clares at the Kornplatz of Meran.
During 500 years this princely foundation characterized the townscape of Meran. Beside the Parish Church Saint Nicholas the church of the convent was the most significant sacred building of the town. Moreover, the Poor Clares possessed the only medieval women's convent of Meran.
The convent was a centre of the Adoration of the Virgin, school for young girls, host for local brotherhoods and guilds, and burial place for many local citizens and aristocrats.
In 1782, Emperor Joseph II suppressed all the convents. The sisters had to leave the convent.
In 1923, the building has been aquired by so called Spar- und Vorschusskasse, which later on was named Volksbank, which already is allocated in the main floor of the building. The frescos of the church were documented, partially taken down and replaced at the large cloister.
In 2010 the two top floors where adapted for the Women's Museum and rent by the municipality of Meran for the Women's Museum.
In 2011 the inauguration took place.